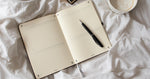 The Oxford My Journal is the perfect combination between a Bullet Journal and a dairy. Plan and visualize all your tasks and appointments in the easiest way, long and short term. But how does it work exactly?
De Oxford My Journal is opgedeeld in vier verschillende gedeeltes: Een jaaplanner, een kwartaalplanner, een maandplanner én een weekplanner! Zo kun je dus al je activiteiten op korte en lange termijn plannen en visualiseren. The Oxford My Journal has four different sections: A yearly planner, a quarterly planner and a weekly planner! This way you'll be able to visualise and plan all long and short term plans. 
Plus you also have a number of blanc pages that you can design yourself. The My Journal has 288 numbered pages in total. 
In the yearly planner you'll find a double page for your long term planning.
The monthly planner helps you plan activities and keeps you organized.1. Monthly planner2. To-do 3. Write down your goals4. Room for notes
4 quarterly pages to write down activities and goals.
In the weekly planner you're able to schedule your days into detail and enough space to write down appointments.The My Journal is compatible with the SCRIBZEE app so you'll always have access to your plans and to-do's!