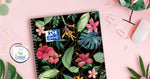 A great deal is happening in the area of ecolabels. This is a good thing for anyone who feels connected to the theme of sustainability. Fortunately, the commitment to sustainability is becoming more and more general: local, (international) national, there is regulation, there are certifications and there is supervision.
But sustainability is also increasingly important to the general public: young, old, schoolboy, student, professional. For Oxford, sustainability is an important part of product development and defining the strategy using the highest standard: the EU Ecolabel.
What is so special about the EU Ecolabel?
The main difference with the known eco-labels such as FSC, PEFC, Nordic Swan, Blue Angel is that the EU Ecolabel is the only eco-label that focuses not only on production (e.g. FSC and PEFC focuses on paper production and related sustainable forest management) but on: the whole life cycle of the product and thus also adheres to the strictest standards throughout the life cycle.
We are super proud that the majority of products in the Oxford range now have an EU Ecolabel certification. But even when this is (not yet) the case, our notation products have an eco-label (an environmental certificate) such as FSC, PEFC, Blue Angel or Nordic Swan and our notation products are always made to EU Ecolabel standards. We have an explanation about the EU Ecolabel in a short (!) clear presentation for your summary: click here for the presentation.