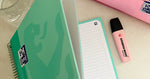 Eindelijk overzicht met kleur
Een beproefde methode om te organiseren en te plannen is het werken met kleur. Kleur werkt bevorderlijk voor je motivatie én voor je geheugen. Met kleur ziet het er niet alleen allemaal veel vrolijker en aantrekkelijker uit, het helpt vooral helderheid in je hoofd te bewaren. Alles wordt er overzichtelijker van: geef ieder onderwerp, klant, product een aparte kleur. Liefst een kleur die je gemakkelijk associeert met het onderwerp. Onderwerpen, teksten of notities van van elkaar onderscheiden scheiden aan de hand van kleur stimuleer het creatieve gedeelte in je brein.Dit helpt je om dingen van elkaar te onderscheiden en hetgeen waar je aan het werken was terug te vinden. Bovendien motiveert kleur je om door (saaie) onderwerpen of taken heen te werken. Met gebruik van kleuren kun je fysieke verbanden leggen en onderwerpen uitermate goed structureren. Waar wachten we op?
Europeanbook 1
Het
Oxford Europeanbook 1
is het ideale notitieboek voor wie op zoek is naar een spiraalgebonden notitieboek dat niet alleen mooi is maar tevens helpt met bij het ordenen op kleur. Het Europeanbook 1 bestaat uit 8 verschillende kleuren, met papier met bijpassende gekleurde rand en matchende spiraal. Met Write&Erase heb je een mini whiteboard aan de binnenkant van de kaft voor berekeningen, aantekeningen, schetsen, etc. Zo voorkom je papierverspilling! Dankzij de 4 gaten berg je de vellen gemakkelijk op in je ordner of ringband. Daarnaast zijn alle Oxford Europeanbooks compatibel met de gratis Scribzee app, waarmee je al je handgeschreven notities eenvoudig op je mobiel kunt digitaliseren, gebruiken, ordenen en delen!